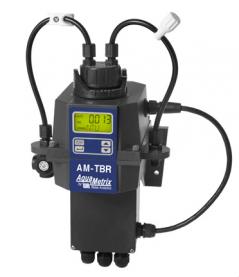 The AM-TBR builds on decades-long experience of measuring turbidity in water and wastewater installations around the world. The instruments are configured with a white light source to meet EPA Method 180.1 or with an infrared source to comply with ISO 7027. Unlike other incandescent light sources, the Krypton-filled bulb provides up to 7 years of life. The ISO 7027 compliant meter has three IR LED light sources which also provide 7 years of trouble-free service.
Optical windows are isolated from the water stream to eliminate false readings. A bubble-rejection system maintains accurate readings. An optional automatic ultrasonic cleaning mechanism keeps the sample cuvette clean and free of organics.
The AM-TBR was designed to be cost effective to purchase and even more cost effective to maintain. The turbidimeter is modular to make servicing and cleaning quick and easy. The compact sample volume of 30 ml means that you will go through less calibration solution over time. The small sample size also means a faster response time. The AM-TBR also uses our primary calibration fluid instead of the unstable and hazardous Formazine.
Optional Windows software allows the user to graphically display data history and alarms, and analyze multiple networked turbidimeters on your own PC.
Finally, Water Analytics stands behind the AM-TBR with an industry-best 2 year warranty.
Features
• EPA 180.1 or ISO 7027 compliant
• Range: 0 to 1000 or 0 to 100 NTU
• Fast and easy calibration
• Modular construction for easy cleaning and servicing, with optional automatic continuous ultrasonic cleaning of optics
• Bubble rejection system to avoid spurious signals
• Isolated optics for more accurate readings
• Low-cost, non-toxic calibration standard
• User selectable 4-20 mA or RS 485-Modbus outputs